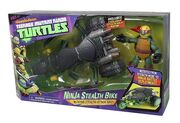 Ninja Stealh Bike with Biker Raph
Description
A true Ninja needs a stealthy ride with awesome looks and details, and the Ninja Stealth Bike more than delivers! The vehicle features a textured turtle shell that covers the Turtle from head to toe, and to on-lookers from above, makes it look just like the street.
Eclusive Stealth Ninja Raph Figure
Accessories
Stealth Ninja Raph:
Articulation
Ninja Stealth Bike:
Hinge Opening Hatch Shell
Stealth Ninja Raph:
Ball Joint Head
Swivel Hinge Shoulders
Swivel Hinge Elbows
Swivel Wrists
Swivel Hinge Hips
Swivel Hinge Knees
Notes
Works with most Turtles Figure
Gallery
Videos
Ad blocker interference detected!
Wikia is a free-to-use site that makes money from advertising. We have a modified experience for viewers using ad blockers

Wikia is not accessible if you've made further modifications. Remove the custom ad blocker rule(s) and the page will load as expected.