Nobody
Talk

0
2,071pages on
this wiki
Officer Longe
aka
Nobody 
is a crime-fighter who desires justice in the world.
Officer Longe
Biographical information
Home
Aliases

The Herald

Nickname(s)

Nobody, Somebody

Date of birth

unknown

Date of death

unknown

Abilities

Acrobatics, flight, super strength and nigh-invulnerability

Weapon(s) of choice

His own Gadgets, Rocket Launcher

Occupation

Police Officer, Super Hero

Affiliation

Springfield PD, Northampton PD, New York City PD, Justice Force

Physical description
Gender
Hair color

Grey

Eye color

Black

Out of universe information
Era(s)
Mirage, 2003 series, Lost Season, Fast Forward, Back to the Sewer
Publisher
First appearance
Voiced by
Teachers and Students

  [Source]
Mirage Comics
Edit
Nobody appeared in 13 comics, it all started off with the turtles being bored and sitting on the sofa and they decided to go out into the city and they saw Nobody in Northampton, where he was chasing after some arms dealers.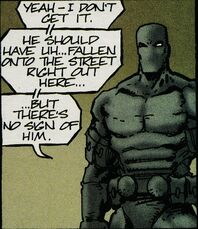 He was shot and told them to follow a truck. When the
Turtles
show themselves to be suspicious of his motives, he shows them his police badge, winning their trust. They follow the truck to
B.F.R. Trucking
. Nobody revealed B.F.R. Trucking does transportation work for a company called 
Ruffington Arms
.
Ruffington
was a munitions company selling their excess weapons to the highest bidder and Nobody wanted to stop them. After they have taken down the arms ring and go separate ways,
Donatello
nicknames him "Nobody" because he never told them his name. (
Tales of TMNT vol.1 #2
) Nobody met the
Turtles
a second time when confronting a gang out to kill an old man who had slain one of their members in self-defense (
Tales of the TMNT #7
). Later on, Nobody also helped
Casey Jones
after he descends into misery following his accidental killing of a Teenager and pushed him away from alcohol. Nobody later started monitoring Casey Jones' abandoned Northampton residence when reports began coming in of activity (radio dispatch refers to him as Officer Longer, revealing his real last name). Finding the alleged intruder to be
Donatello
, the two of them fought in a confused scuffle (TMNT Vol. 2, #3 & 4). Nobody also helped the
turtles
and
Louis Braunze
rescue
Raph
who had been kidnapped by
DARPA
. He later aids the Turtles against a giant
Asteroidean
, but is lost in action and presumed dead when he is impaled through the chest by one of its appendages and pulled into its mouth. (TMNT vol. 2 #12). Once he did all this Nobody returns to help Casey Jones and a mutated Raphael, this time he, claimed he was "The Herald", had a set of super powers which he got from the
Asteroidean Overlord
, and put on a white suit after Casey suggested he change his costume. As it turns out, the Overlord was aware of the impending threat of the
Triceratons
invading the DARPA facility and chose Nobody to protect her out of desperation. She drew him into her belly in order to endow him with powers. Unfortunately, when Casey blew her up, her progress was set back many years and Nobody was placed in suspended animation until her awakening. The process gave Nobody great power, but unfortunately, wiped most of his memory. Nobody declares that the Overlord is actually a benevolent being and, in turn, is hunted by evil doers from all across the
Multiverse
. He has sworn to protect her and uphold justice at the same time. (
Tales of the Teenage Mutant Ninja Turtles Vol. 2 #60; July, 2009
).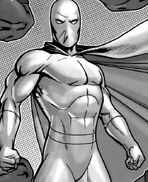 2003 series
Edit
His first appearance was in Nobody's Fool, where he got help from Michelangelo and Leonardo to capture his arch enemy Ruffington. The reason why Nobody was after Ruffington was because he got Nobody fired from his job as a Police detective. Nobody was once a New York City detective, who was on the verge of exposing Ruffington as an arms dealer to the black market. But Ruffington claimed he was harassing him and used his influence to destroy his reputation and make the commissioner reassign him to archive duty. Angered at the loss of his life, reputation, and honor, Nobody strove to expose Ruffington.
In the aftermath of the Triceraton invasion, Nobody was on to Ruffington. While chasing one of Ruffington's trucks, he saved Leonardo and Michelangelo from being run over. Subsequently, they worked together to investigate Ruffington, who was in league with the "Purple Dragons" and Hun (and thus indirectly the Shredder), by modifying Triceraton cannons and dealing them to the Foot Clan. Nobody fought Ruffington and managed to get him handcuffed, just as the police arrived. Once he succeeded Ruffington asked who we was and he said "somebody".
Later with the help of the Turtles in "Still Nobody", Nobody broke up the street gang "The Turks"
The Lost Episodes
Edit
In the Lost Episodes, Nobody was asked to join the Justice Force with Nanobot and Raptarr, so he did. He also appeared with them when they fought the Tengu Shredder's army. 
Fast Forward
Edit
Once they won Nobody wasn't seen until the TMNT: Fast Forward episode "The Journal", where he and the other Justice Force members were (supposedly) accidentally turned into toddlers by none other than the Turtle Titan, when he deflected Big Bad Binky Boy's ray.
Back to the Sewer
Edit
In TMNT: Back to the Sewer Nobody appears in the episodes Super Power Struggle and Wedding Bells and Bytes. Nobody and the Justice Force were invited guests at the wedding of April and Casey. While they arrived late to the ceremony, they came just in time to save the other guests from an attack by the Cyber Shredder and the Foot Clan.
Appearances
Edit
References
Edit