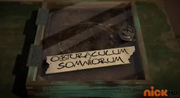 Obturaculum Somniorum, or Dream Plug, is a device created by Bernie to contact the Dream Dimension, it opened a door through which the Dream Beavers could enter our world and the only way to prevent this would be keeping the Obturaculum working forever.
Bernie kept the Obturaculum hidden inside an old book for 40 years, but Casey broke it to save the Turtles' lives, releasing the Beavers into our dimension.
Gallery
Ad blocker interference detected!
Wikia is a free-to-use site that makes money from advertising. We have a modified experience for viewers using ad blockers

Wikia is not accessible if you've made further modifications. Remove the custom ad blocker rule(s) and the page will load as expected.