Oroku Nagi
Talk

0
2,065pages on
this wiki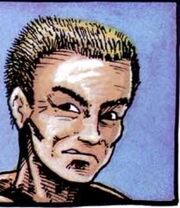 Oroku Nagi
Biographical information
Home
Ethnicity

Japanese

Occupation

Foot Clan member

Affiliation
Physical description
Species
Gender
Hair color

Black

Out of universe information
Era(s)
Publisher
First appearance
Created by
Teachers and Students

  [Source]
Oroku Nagi was the older brother of Oroku Saki, The Shredder in the Mirage Comics.
Nagi competed with Hamato Yoshi (the owner of Splinter, the Turtles' mentor) for the love of a woman named Tang Shen. Shen loved only Yoshi, and a feud erupted between Yoshi and Nagi, which led to Yoshi killing Nagi and fleeing from Japan to New York City with Shen. This led to Saki swearing revenge on Yoshi.
Nagi died in Comic #1 (The Origin of the Turtles) and Saki knows that Yoshi killed him.
In the Tales Vol. 2 story "A Ghost Story", the Turtles visit Hamato Yoshi's house and find that it is being haunted by Nagi's spirit. Splinter exorcises Nagi by burning the house down.
Oroku Nagi has never made any appearances outside the Mirage comics; however in the 2003 TV series, a character named Yukio Mashimi is loosely based on him. In the 1987 TV series Oroku Saki did have a younger brother Kazuo Saki who was a policeman in Tokyo.