Oscar
Biographical information
Home
Ethnicity

Caucasian

Occupation

Taxicab driver

Physical description
Species
Gender
Out of universe information
Era(s)
First appearance
Voiced by
Teachers and Students

  [Source]
Oscar is a taxicab driver. He appears in the episode Raphael Drives 'Em Wild of the 1987 TMNT cartoon. He's mind is switched with, Raphael's before Raphael and Oscar are returned to themselves at the end of the episode.
On his way home from getting pizza, Raphael and Oscar accidentally get exposed to rays from a Personality Transmogrifier. When the device goes off, Raphael's mind gets switched with Oscar's.
While April is on her way to interview the Premier, she spots "Raphael" driving the cab that Mr. Big and Little Huey are in. April tries to talk to him, but Oscar thinks she's nuts when she call him Raphael.
After their minds are switched back, April ends up getting her interview with the Premier, Oscar gets a medal for saving the Premier and the Turtles return home with the real Raphael.
References
Oscar is also the name of a rejected snail mutant.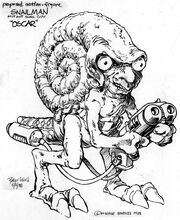 Ad blocker interference detected!
Wikia is a free-to-use site that makes money from advertising. We have a modified experience for viewers using ad blockers

Wikia is not accessible if you've made further modifications. Remove the custom ad blocker rule(s) and the page will load as expected.