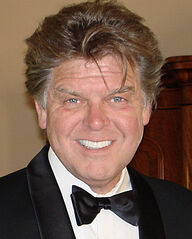 Pat Fraley (born February 18, 1949; 68 years old) is a prolific American voice, and voice over teacher actor who has provided voices for numerous characters in the 1987 TV series. He is also a member of Voice and Speech Trainers of America.
Voice roles
Army colonel
Bully
Cheese shop owner
Gas station worker
Vernon Fenwick (season 1)
Jewellery Store Salesman
Police chief
Clown
Library security guard
Man with cotton candy
Policeman
Rich man
Rodney's butler
Sailor
Second Viking
Short criminal
Subway policeman
Turtle cab driver
External Links
Ad blocker interference detected!
Wikia is a free-to-use site that makes money from advertising. We have a modified experience for viewers using ad blockers

Wikia is not accessible if you've made further modifications. Remove the custom ad blocker rule(s) and the page will load as expected.