Planet of the Turtleloids, Part 1
Talk

0
2,049pages on
this wiki
After a mutant by the name Tattoo electrocutes himself and by doing so reverts back into a hamster the turtles come to the conclusion Shredder and Krang must be using Mutagen again. Shredder is indeed mutating again with a dastardly plan to have newly mutated Groundchuck and Dirtbag steal a ruby with enough power to free the Technodrome. Meanwhile reports of a mysterious fifth turtle wearing a trenchcoat begin to flood the city. After encountering the mystery reptile the turtles find out that Kerma is no mutant at all but a "Turtleoid" from the planet Shellri-la. The turtle teens are transported back to his home planet via a large ship not unlike the Chrysler Building and soon after approached by a large two headed dragon named Herman the Horrible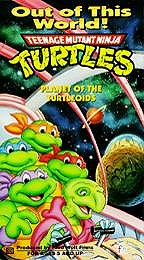 Character voices
Edit
Locations
Edit
Turtles' Lair
Howard's Pet Store
Shell-Ri-La
City zoo
Diner
New York City streets
Vehicles
Edit
Inventions/devices
Edit
Krang's heat ray
Gold Machine
April's Turtlecom
First appearances of Groundchuck, Dirtbag, Kerma and Chrome Dome.
This episode along with Planet of the Turtleoids Part 2 originally aired as an hour long primetime special on August 31, 1991 and when reran for Saturday mornings was split into two half hour episodes
Vernon doesn't pay for his root beer float upon receiving it, neither is he told whether he can have it on the house.
While omitted from the Season 5 DVD set, this episode is featured as a bonus episode on the Season 10 DVD.
When Shredder and Krang exited the Module at the monkey house, the pink parts of the vehicle were coloured white instead of pink, plus it's door opened downward like a ramp instead of upwards.
The patterns on the back of the Turtles' shells was drawn differently after the left the pet shop.
When Rocksteady used April's Turtlecom at the zoo, the same shot of the device from earlier on in the street was shown as the ground was different.
Bebop and Rocksteady refer to the zoo as the zoo they came from, even though the two were humans before they mutated. It should be noted, though, that in the Archie Comics, Bebop and Rocksteady showed signs of remembering the lives of their animal sides.