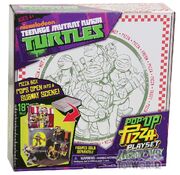 Description
Who's hungry for pizza? The Turtles are always ready for whatever pops up! Open this "pizza box" and serve up a fresh slice of Anchovy Alley topped with furious ninja moves. Above or below the city streets, take down Shredder, the Foot Clan, and the Kraang.
Pizza box pops open into a subway scene! Unfolded playset is 18" tall.
When you're done, just fold the playset back into the pizza box for easy storage.
Spring-loaded Streetlamp
Opening Doors
Portable Pizza Oven Launcher
4 Pizza Discs.
Opening Vault
Notes
Gallery
Videos
Ad blocker interference detected!
Wikia is a free-to-use site that makes money from advertising. We have a modified experience for viewers using ad blockers

Wikia is not accessible if you've made further modifications. Remove the custom ad blocker rule(s) and the page will load as expected.