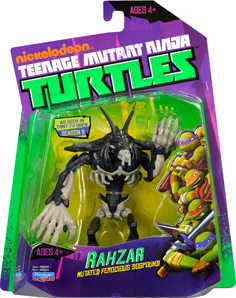 Mutated Ferocious Dogpound
Not exactly man's best friend, Rahzar has more bite than ever before! Coming in contact with Ooze all over again. Dogpound is mutated into a faster, stronger, and more powerful hound. With his fierce hatred of the Turtles and his loyalty to the Foot Clan, Rahzar's new found strength poses an even bigger threat to the Turtles.
Weapons: Canine Claws & Teeth, Mutant Spikes
Team: Foot Clan
Accessories
Articulation
Swivel Neck
Swivel Hinge Shoulders
Swivel Waist
Swivel Hinge Hips
Features
Finger Flick Rahzar Claw - which shoots off claws at the end of his right hand
Gallery
Ad blocker interference detected!
Wikia is a free-to-use site that makes money from advertising. We have a modified experience for viewers using ad blockers

Wikia is not accessible if you've made further modifications. Remove the custom ad blocker rule(s) and the page will load as expected.