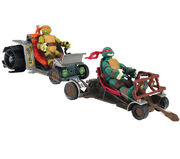 Turtles' Interlocking Speed Machine
Description
Connect the two vehicles, then launch Raph forward for an explosive Ninja Battle Boost!
Crush Fishface's robo-feet with Mikey's twin-throttle steering and mighty monster wheels!
Blast the Foot Clan from the fast lane with Raph's and Mikey's Patrol Buggies! Straight from the hit TV show, these customized rides are ready to rock!
Run Dogpound out of town with Raph's reloadable road rash missile! Raph's Patrol Buggy has a shell-shaped crash cushion and a lever to launch the missile (included).
Snap all four Patrol Buggies together to form one Mega Ninja Buggy! All mutant. All terrain. All Turtle!
Notes
Figures and Leo & Donnie Patrol Buggies sold separately.
Gallery
Ad blocker interference detected!
Wikia is a free-to-use site that makes money from advertising. We have a modified experience for viewers using ad blockers

Wikia is not accessible if you've made further modifications. Remove the custom ad blocker rule(s) and the page will load as expected.