Raphael
Biographical information
Home
Aliases

Red Rover

Nickname(s)

Raph
Big Red (by Hypno-Potamus)

Date of birth

2003

Abilities

Ninjutsu
Smash-jitsu

Weapon(s) of choice
Occupation
Affiliation
Species

Mutant snapping turtle

Gender
Hair color

None

Bandana color

Red

Eye color

Black

Out of universe information
Era(s)
First appearance
Voiced by
Teachers and Students
Teacher(s)

  [Source]
Raphael is a mutant snapping turtle, and the oldest and leader of the Ninja Turtles. His weapons are a pair of tonfās, which helps him tap into the power of "smash-jutsu".
Physical Appearance
Raphael is a large and muscular mutant snapping turtle with bright green skin, a yellow-orange plastron with a jagged top edge and a spiked dark green carapace. He also has small spike protruding from his shoulders, black eyes, a small sharp tooth hanging from his upper right jaw, three fingers and two toes on each foot.
Raph wears a red mask that caps over the top of his head (with long jagged mask tails about the same length as Leo's), red elbow pads with a large spike at the "joint" and off-white bandages around his wrists, hands and ankles, as well as small bandages on his right side of his plastron and left forearm. He also wears red shorts with a black overlay and a red belt with a Turtle emblem.
Personality
Raph appears to have a soft spot for animals, as shown in "Mystic Mayhem", when he saw Mayhem lost and scared on a construction site. He also seem to be an extreme eater, as shown in "Origami Tsunami" who was eat the salami and later the same salami from the salami monster. In "War and Pizza", he was seen eating pizza and later on eating cake.
History
Bio
As the biggest and oldest brother, Raphael is the self-appointed leader of the group. He thinks he can use his fists to get himself out of any situation. But while Raph's muscles are bigger than his brain, his heart is bigger than his muscles.
Abilities
Strength (Due To Mutation & Species)
Speed (Due To Mutation)
Durability
Acrobatics
Stealth
Smash-jitsu
Ninjutsu
Relationships
Family
Friends
Enemies
Quotes
"Go big or go home!" - Raphael to his brothers
"Hey pop, any chance we can have the living room for the night?"
"Stop talking about my fear stink!"
"Let's take the glowy ones."
Trivia
In the 2018 series, each one of the Turtles comes from a different turtle subspecies.
Unlike previous incarnations of the Turtles, this version of Raphael is both the oldest turtle and the leader of the team, instead of Leonardo.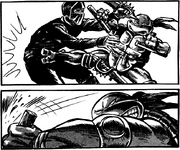 This version of Raphael is not the first to wield tonfās or wear a headscarf instead of a headband. The first such appearance of either was in the 1986 Mirage TMNT story The Passing, which takes place when the Mirage Turtles are still preteens in ninja training, all wearing headscarves, and Raphael's primary weapons were tonfās rather than the sais he would wield later on.
According to the Rise of the TMNT concept art reveal live stream, Raph and Leo will have a brotherly rivalry, much like other incarnations.
Visually, Raph is much bigger than the rest of the Turtles.
When describing his leadership role on live stream, Raph was described as the "reactionary-type leader".
According to a behind the scenes video, the only reason that Raph is the leader, is because he is the oldest.

Raph is also considered to be a "figure it out as he goes" type of leader.
In "Mystic Mayhem", it is revealed that Raph chokes under pressure, and that he's even more self conscious when someone talks about it. This proves that Raph may not be fit to be leader.
Gallery