| | |
| --- | --- |
| | This article is about a product or event which has not been released yet. As such, information may be available sparingly until release. As always, please only update the article with verified information. This template can safely be removed after release. |
Raphael
Biographical information
Home
Date of birth

2003

Abilities
Weapon(s) of choice
Occupation
Affiliation
Species
Gender
Hair color

None

Bandana color

Red

Eye color

Black

Out of universe information
Era(s)
Voiced by
Teachers and Students
Teacher(s)

  [Source]
Raphael is a Mutant snapping turtle, and the oldest and leader of the Ninja Turtles. His weapons are a pair of tonfas.
History
Trivia
Unlike previous incarnations of the Turtles, this version of Raphael is both the oldest turtle and the leader of the team, instead of Leonardo.

Also, his weapon of choice will be the Tonfa instead of his usual weapon, the Sai.

According to the Rise of the TMNT concept art reveal live stream, Raph and Leo will have a brotherly rivalry, much like other incarnations.
Visually, Raph is much bigger than the rest of the Turtles.
When describing his leadership role on live stream, Raph was described as the "reactionary-type leader".
According to a behind the scenes video, the only reason that Raph is the leader, is because he is the oldest.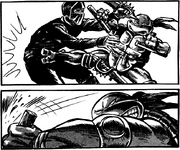 This version of Raphael is not the first to wield tonfas or wear a headscarf instead of a headband. The first such appearance of either was in the 1986 Mirage TMNT story The Passing, which takes place when the Mirage Turtles are still preteens in ninja training, all wearing headscarves, and Raphael's primary weapons were tonfas rather than the sais he would wield later on.
Gallery