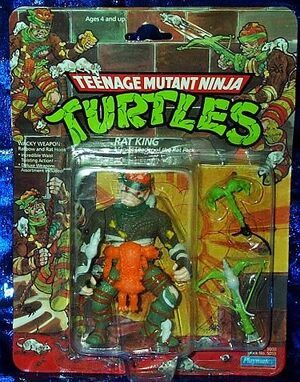 Maniac Leader of the Rat Pack
Vital Ratistics
Accessories: Royal Ratbow, Rat Hook and Snakebelt
Height: Tall enough
Weight: One heavy dude
Favorite Food: Ratatouille
Favorite Film: "Willard"


No one knows for certain where he came from, but one thing is for sure, Rat King revels in scum and scum revels in him. The creepiest of sewer crawlies nest in his royally rotten rags. The self-proclaimed King of the Ratocracy, he hypnotizes his rodent subjects with his seductive flute playing. Even Splinter succumbs to his magical musical powers.
Rat King's army protects his slimy kingdom by fighting tooth and whisker against all outsiders, good or bad. Watch out! Rat on his loyal subjects and you may be wrestling with his Rat Hook or running for your life from Rat King's Royal Ratbow. Rat King's motto is: "First the sewers, then the world!" He and Shredder are battling for total sewer domination while the Turtles are defending their "Home Sweet Sewer" from both. Looks like plenty of trouble underfoot!
Ad blocker interference detected!
Wikia is a free-to-use site that makes money from advertising. We have a modified experience for viewers using ad blockers

Wikia is not accessible if you've made further modifications. Remove the custom ad blocker rule(s) and the page will load as expected.