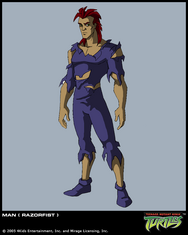 Razorfist
Biographical information
Home

Earth, Underground City

Physical description
Species

Human (Former Mutant)

Gender
Out of universe information
Era(s)
First appearance
Teachers and Students

  [Source]
Razorfist was a mutant-human with scorpion-like features who dwelled underground with his companions Stonebiter and Quarry.
History
Following a scuffle with the Turtles, the three of them, who were used as genetic experiments by Foot Technicians, befriended the Turtles.
Appearances
Ad blocker interference detected!
Wikia is a free-to-use site that makes money from advertising. We have a modified experience for viewers using ad blockers

Wikia is not accessible if you've made further modifications. Remove the custom ad blocker rule(s) and the page will load as expected.