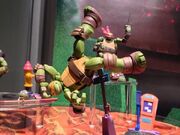 Description
no description found for this product
Accessories
2 Nunchucks
"Spinning" Nunchuck
Extra Head - happy face
Sewer Manhole Cover with street sign - display stand
Articulation
Ball Joint Head
Ball Joint Shoulders
Swivel Hinge Elbows
Swivel Hinge Wrists
Hinge Fingers
Ball Joint Hips
Swivel Hinge Knees
Ball Joint Ankles
Note: all joints use the Revoltech "Revolver Joint" system. The above articulation is approximate. The eyes can be moved by sliding the bandana tail and can be made completely white.
Gallery
Ad blocker interference detected!
Wikia is a free-to-use site that makes money from advertising. We have a modified experience for viewers using ad blockers

Wikia is not accessible if you've made further modifications. Remove the custom ad blocker rule(s) and the page will load as expected.