Rick Remender
is a comic book writer and artist, whose most well-known work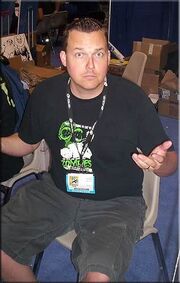 includes Marvel Comics publications such as Uncanny X-Force (Vol. 1), Venom (Vol. 2), Secret Avengers, and Uncanny Avengers.
Remender was illustrator (pencils) and co-writer of four books in Tales of the TMNT: The Worms of Madness, Part 1, The Worms of Madness, Part 2, Loops, Part 1, and Loops, Part 2.
External Links
Ad blocker interference detected!
Wikia is a free-to-use site that makes money from advertising. We have a modified experience for viewers using ad blockers

Wikia is not accessible if you've made further modifications. Remove the custom ad blocker rule(s) and the page will load as expected.