| | |
| --- | --- |
| | This article is about a product or event which has not been released yet. As such, information may be available sparingly until release. As always, please only update the article with verified information. This template can safely be removed after release. |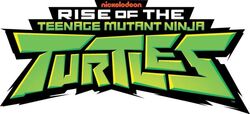 Rise of the Teenage Mutant Ninja Turtles is a 2D-animated television series, set for first airing in September of 2018.[1]
Production
Development
The new 2D series is co-executive produced by Andy Suriano (character designer for Samurai Jack) and Ant Ward (supervising producer of the 2012 TV series). The series is said to be lighter and more humor-oriented than the 2012 series.
Characters
Production crew
Clips
Trivia
This is the first time April O'Neil is officially portrayed as African-American, but not the first concept of April as African-American. The original Mirage TMNT April was inspired by a biracial woman Kevin Eastman once dated, and her ethnic appearance in early issues was ambiguous and in a state of flux, but was later more consistently portrayed with a Caucasian appearance.
Raphael is the oldest turtle and leader of the TMNT for the first time instead of Leonardo. As stated by the voice actors, the new order of the turtles (from eldest to youngest) is now: Raphael - Donatello - Leonardo - Michelangelo.
This is the first time that each turtle are a different species from one another.

Raphael is a snapping turtle.
Donatello is a softshell turtle.
Leonardo is a red-eared slider turtle.
Michelangelo is a box turtle.

Each episode will be 11 minutes long.
This is the second series in which a Turtle utilizes tonfa as a weapon, the first being Michelangelo in Ninja Turtles: The Next Mutation.

Leonardo and Michelangelo also don't use their traditional weapons in this series. For instance, Leonardo will wield an Odachi instead of double Katana blades, and Mikey will wield a kusari-fundo instead of double nunchaku.
It was hinted in an interview that the Turtles may change their weapons after Season 1.
According to a behind the scenes video, the show focuses on the Turtles before they "started their career as crime fighters".
It was hinted in an interview that Shredder may possibly appear in this series.
References