Rocksteady
Talk

0
2,049pages on
this wiki
Rocksteady
Biographical information
Home

New York City / The Technodrome / La Brea Tar Pits

Nickname(s)

Super Rocksteady, Rhinoman, Dunderhead (Krang), Idiot, Mutant Moron (Shredder), Klutz

Weapon(s) of choice

Guns, Fists and Feet, Club, Leadpipe, Retro-Mutagen Gun, Turtle Carver Knife, Sword, Skull Crackin' Crow Bar

Affiliation
Physical description
Species
Gender
Height

5' 7"

Weight

240 lbs

Hair color

Black (Mutant), Blonde (Human)

Eye color

Yellow, Black

Out of universe information
Era(s)
First appearance

Turtle Tracks':human, 'Enter the Shredder':mutant

Created by
Voiced by

Cam Clarke (1987 series)
Hidetoshi Nakamura (Japanese)
Johnny Castro (Turtles Forever)

Teachers and Students
Teacher(s)

  [Source]
Rocksteady is a street punk mutated into a humanoid rhinoceros who assists Oroku Saki and Krang in their fight against the Turtles in the 1987 TV series, Teenage Mutant Ninja Turtles Adventures comics, Video games, and anime. He is Best friends with fellow mutant and gang member Bebop.
Biography
Edit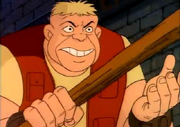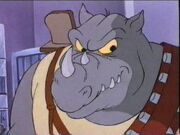 Rocksteady was originally a human member of a gang of criminals who operated under the Foot, when one of their thefts was interrupted by an attack by the Teenage Mutant Ninja Turtles. Rocksteady was originally a short and stocky blond Caucasian man (who sported army camouflage pants that would be replaced with simple beige cargo pants later while also occasionally sporting a army helmet on his head in his mutated form). With the other members of his gang, he was sent out to stop a Channel 6 reporter named April O'Neil from doing a report about crime in the city. April ran down into the sewers while being chased by the street gang and met the Teenage Mutant Ninja Turtles, who then defeated the gang in a fight. After this humiliating setback, the Shredder developed a plan to defeat the Turtles by mutating members of the street gang, so that they would have abilities parallel to the Turtles'. He and his friend Bebop were voluntarily mutated into evolved animals (though neither was particularly aware of what it would entail) with the promise that it would allow them to exact revenge on the Turtles. Rocksteady become a rhinoceros. However, though the transformation did make them larger and stronger, they remained incompetent and were often inept at stopping the Turtles or carrying out Shredder's plans.
For example, in Enter the Shredder they charged at the Turtles, who jumped, and crashed into each other. Donatello commented that their mutations didn't "up their IQ's any." For most of the series they were employed for important purposes, much to the annoaynce of the Shredder when they eventually fail. However, the Turtles certainly consider them to be formidable (despite their stupidity) in combat due to their great strength and endurance, and as such, often use their intelligence to outwit them rather than fighting them in a straightforward manner. Bebop and Rocksteady's last appearance is in the season 8 finale Turtle Trek. In that episode, the Turtles destroy the Technodrome's engines, trapping it and its inhabitants in Dimension X for good. Bebop and Rocksteady are never seen again after that episode, but Krang and Shredder return during the 10th and last season. Bebop and Rocksteady are presumed to still be somewhere in Dimension X. They made a reappearance in the made-for-tv movie 'Turtles Forever'. In the flashback describing how the Turtles crossed dimensions, they said to their Turtle counterparts that they were facing off against Shredder and the Technodrome, meaning that he got the machine out of Dimension X (as well as Bebop and Rocksteady). Their incompetence is still shown, although it ended up saving the Utrom Shredder when Rocksteady accidentally tripped over and unplugged a laser that was about to destroy him, although Bebop ended up obliterating the Utrom Shredder anyway when he replugged the same laser device all the while thinking he would be pleased that they "fixed" his machine. All this happened just as the Utrom Shredder was unleashing a plan that would wipe out Ninja Turtles of all planes of existence (even if it meant destroying himself since he was still linked to them), so ironically... Bebop saved all of the Turtles in existence.
Mirage Comics
Edit
Rocksteady had a brief cameo in All Tomorrow's Yesterdays.
TMNT Superman Legend (Anime)
Edit
IDW Comics
Edit
Rocksteady's human form appears in Teenage Mutant Ninja Turtles Micro-Series Raphael 1.
Action Figures
Edit
1988
The original Rocksteady action figure was released by Playmates Toys in 1988. This had the character armed with an automatic rifle (that was fitted with a telescopic sight on top of the receiver), which resembled the appearance of the US Army's M60 general purpose machine gun, as well as a bowie knife, manhole cover shield, and belt with turtle shells. 1991
Machine Gunnin' Rocksteady
1992
Dimwit Doughboy Rocksteady
Giant Rocksteady
Mutatin' Rocksteady
Power Punchin' Rocksteady
Night Ninja Rocksteady
Robotic Rocksteady
Rhinoman
1994
Gatekeeper Rocksteady
Kung Fu Rocksteady
Supermutant Rocksteady
1995

2013 Classic Rocksteady: new figures of Bebop and Rocksteady will be released in Playmates' TMNT Classics series 2.
Video Games
Edit
Rocksteady appeared in many of the Teenage Mutant Ninja Turtles video games. In some of his appearances, he is fought with Bebop as a pair.
Rocksteady was the creation of David Wise, based on instructions by Fred Wolf to "put more mutants in the series"
Rocksteady and his cohort Bebop were slightly more of a threat in the Archie Adventures adaptation of the TV series origin. This could be attributed to issues of violence on TV, still, although he could be considered being slightly more competent in the comics it wasn't by much. Even so, by the time Archie Adventures started doing their own theme, it seems Bebop and Rocksteady reverted to something more similar to their cartoon counterparts.

Added by

The S
In TMNT, He and Bebop were mentioned in Shell Shock, a rap song that played in the end credits.
Among Rocksteady and Bebop's favorite television programs is The Slurps, a thinly-veiled parody of The Smurfs
Pastiches of Rocksteady and Bebop can be seen in issue #29 of Sonic Universe, in prison with Scourge (the evil version of Sonic).
It is possible that Dogpound and Fishface are the new Bebop and Rocksteady.