TMNT S.W.A.T. - Have no fear with this special gear!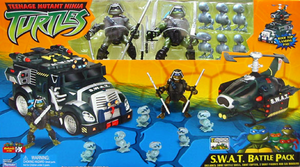 Figures included: S.W.A.T. Gear Leonardo, S.W.A.T. Gear Donatello, Blue Mousers.
Vehicles included: S.W.A.T. Battle Shell, S.W.A.T. Stealth Copter.
Accessories included: Leonardo's S.W.A.T. armor, Donatello's S.W.A.T. armor, two bo, two katana.
When the going gets tough, the tough gear up! Some jobs require that little extra something - special protective padding, a tricked-out stealth copter and one big butt-kicking, baddie-busting Battle Shell! When the public's in danger, the Turtles gear up S.W.A.T.-style to keep the peace and save the day!
Ad blocker interference detected!
Wikia is a free-to-use site that makes money from advertising. We have a modified experience for viewers using ad blockers

Wikia is not accessible if you've made further modifications. Remove the custom ad blocker rule(s) and the page will load as expected.