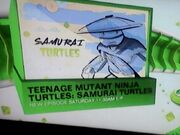 Samurai Turtles is a title used by YTV on 25 July 2017 to promote the upcoming story arc of Teenage Mutant Ninja Turtles (2012 TV series) beginning with Yojimbo's Canadian debut on 29 July 2017.
Ad blocker interference detected!
Wikia is a free-to-use site that makes money from advertising. We have a modified experience for viewers using ad blockers

Wikia is not accessible if you've made further modifications. Remove the custom ad blocker rule(s) and the page will load as expected.