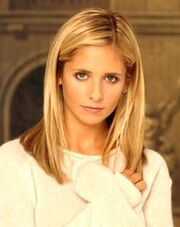 Sarah Michelle Gellar (also known as Sarah Michelle Prinze) is best known for playing Buffy Summers in Buffy the Vampire Slayer and a few episodes in its spin-off series Angel. She was also notable for playing Helen Shivers in I Know What You Did Last Summer , Cici Cooper in Scream 2, Kathryn Merteuil in Cruel Intentions, Kendall Hart in the long running soap opera, All My Children, and Daphne Blake in the live-action Scooby Doo films.
She voiced April O'Neil in the 2007 film.
Ad blocker interference detected!
Wikia is a free-to-use site that makes money from advertising. We have a modified experience for viewers using ad blockers

Wikia is not accessible if you've made further modifications. Remove the custom ad blocker rule(s) and the page will load as expected.