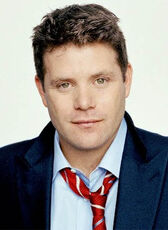 Sean Patrick Astin
(born
Sean Patrick Duke
in February 25, 1971; 46 years old) is the voice of
Raphael
in the
2012 TMNT series
by Nickelodeon. Astin is well known for several movie roles, mainly Mikey, the adventurous leader in
The Goonies
, William "Billy" Temper in
Toy Soldiers
and Samwise Gamgee in
Lord of The Rings
Trilogy.
He is the second Goonies cast member to play one of the Turtles, the first being Corey Feldman as Donatello in the first and third 1990 movies and Slash in the 2012 series. He is best known as the voice of Special Agent Oso from the television series of the same name.
External Links and References
Ad blocker interference detected!
Wikia is a free-to-use site that makes money from advertising. We have a modified experience for viewers using ad blockers

Wikia is not accessible if you've made further modifications. Remove the custom ad blocker rule(s) and the page will load as expected.