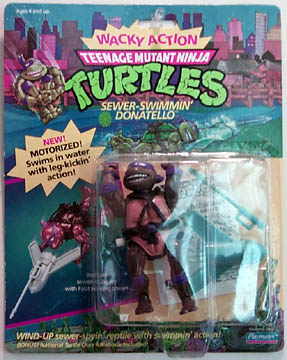 Wind-up sewer spyin' reptile with swimmin' action!
Vital Tortistics
Accessories: Floating sewer-scuba sewer jet and detachable Foot seeking spear
Clean up the stinky Foot with Sewer-Swimmin' Donatello. With Don's sewer-scuba jet, you can be certain the Shredder won't be surfing through your sewers. This Turtle teen skims the water to uncover deviously devised Foot plans. Don dares to boldly go where no Turtle has gone before - your tub, for instance, where he gets more than his feet wet giving the Foot a bath. And his keen spy sense will keep him from making too many waves.
See Don rival Olympic hopefuls with his shell-stroke swimming action! The Turtles can now command the high seas from the splendor of your sewer-bath!
Ad blocker interference detected!
Wikia is a free-to-use site that makes money from advertising. We have a modified experience for viewers using ad blockers

Wikia is not accessible if you've made further modifications. Remove the custom ad blocker rule(s) and the page will load as expected.