Shellraiser
Talk

0
2,063pages on
this wiki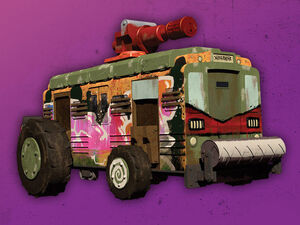 The
Shellraiser
is the main transportation for the
Turtles
​ in the
2012 series
. It's seen in the opening sequence, but its official in-series appearance is in episode 16, "
The Pulverizer
".
The Shellraiser is a converted subway car, which formerly served as Leatherhead's hideout. Its tires are mounted on an armature that slide up or down allowing it to be used on subway rails or roads. It is equipped with a retractable top-mounted garbage cannon, a sewer lid shooter and bumper-mounted crushing jaws. Each of the four turtles have their own station on board the Shellraiser, with Leonardo in charge of driving (as he is the turtle least likely to run into things for fun).
Originally, the Shellraiser was powered by a power cell stolen from the Kraang, protected by undetectable lead shielding. However, when the lead shielding cracked, the Kraang quickly traced and reclaimed the power cell, rendering the Shellraiser inoperable. In subsequent episodes the Shellraiser is operational again, suggesting that Donnie found an alternative way to power the vehicle.
There is a dock underneath the Shellraiser that holds the Stealth Bike. Weapons onboard include a manhole cover launcher as well as two metal crushers on the front bumper, there is Also a garbage Canon mounted on top that can be pulled inside
There will be a toy of the Shellraiser in the 2012 Playmates toy line.
There is also a LEGO version of the Shellraiser.
The Shellraiser's name is a pun on "Hellraiser."
Michelangelo gave the Shellraiser its name. For once, his brothers felt it was the perfect name.