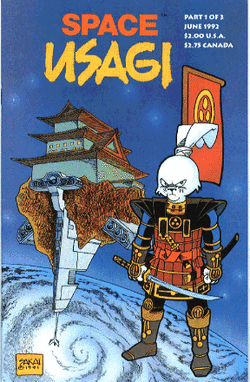 Space Usagi
is a comic book series by
Stan Sakai
which is a spin-off of his
Usagi Yojimbo
series. The protagonist of
Space Usagi
is
Miyamoto Usagi II
, who is descended from and named after
the 'Usagi Yojimbo' character
.
In addition to his first Usagi Yojimbo comic book series, Sakai created a limited spin off series called Space Usagi that featured characters similar to those in the original series, including a descendant of Miyamoto Usagi, but set in a futuristic setting that also emulated Feudal Japan in political and stylistic ways. Three mini-series of three issues each and two short stories featuring the characters were produced. Sakai has tentative plans to produce a fourth Space Usagi miniseries, but nothing has been announced yet.
A Space Usagi animated series was planned, but aside from a short pilot, nothing ever came of it. [1]
References
Ad blocker interference detected!
Wikia is a free-to-use site that makes money from advertising. We have a modified experience for viewers using ad blockers

Wikia is not accessible if you've made further modifications. Remove the custom ad blocker rule(s) and the page will load as expected.