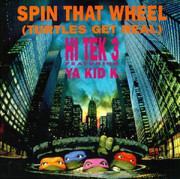 "Spin That Wheel"
is a song by Belgian group Technotronic released under the name "Hi Tek 3 featuring Ya Kid K" in 1990. Hi Tek 3 are listed as Kovali, El Sati and Yosef.
The track appeared on the Teenage Mutant Ninja Turtles soundtrack and was also released as a single. In some territories it was released as "Spin That Wheel (Turtles Get Real)". A reference to drug use ("I smoke the mic like weed") was edited out of the soundtrack album. A David Morales remix of the track was also included on the Technotronic album Trip on This: The Remixes.
In Britain, "Spin That Wheel" was first issued in January 1990 and reached #69, but became a bigger hit when re-released that September, peaking at #15. In the USA the song reached #69 on the Billboard Hot 100, #8 on Hot Dance Music/Maxi-Singles Sales, #3 on Hot Dance Club Play and #39 on Hot R&B/Hip-Hop Songs.
Lyrics
Gallery
Videos