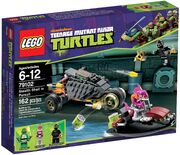 Stop Fishface in a Stealth Shell sewer chase!
Description
This set is composed by 162 pieces
Fishface is out looking for trouble on his ooze-launching sewer skimmer. Chase him through the city sewers in Raphael's Stealth Shell! Outmaneuver his reverse flick missiles with the Stealth Shell's tri-wheel design and dual flame exhaust. Then fire the dual flick missiles at that menacing mutant before he launches ooze all over the city!
Includes 3 minifigures:
Features:
Dual flick fire missiles
Mutagen canister catapult
Sewer Skimmer and Mutagen canisters
Includes 4 weapons:
(Note: a spare sai is included in the set)
Speed after the sewer skimmer with Raphael's Stealth Shell! Launch the ooze drums with the sewer skimmer's catapult!
Measures over 2" (6cm) high, 5" (13cm) wide and 2" (6cm) long Sewer skimmer measures over 1" (4cm) high, 5" (12cm) long and 2" (6cm) wide
Notes
This set includes an alternate build wich instructions can be found at the LEGO website.
Gallery
Ad blocker interference detected!
Wikia is a free-to-use site that makes money from advertising. We have a modified experience for viewers using ad blockers

Wikia is not accessible if you've made further modifications. Remove the custom ad blocker rule(s) and the page will load as expected.