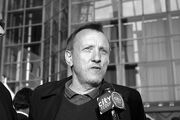 Steven "Steve" Barron
(born May 4, 1956) is an Irish director and producer who directed
the first Teenage Mutant Ninja Turtles film.
Filmography
Electric Dreams (1984)
Teenage Mutant Ninja Turtles (1990)
Coneheads (1993)
The Adventures of Pinocchio (1996)
Rat (2000)
Mike Bassett: England Manager (2001)
Choking Man (2006)
Ad blocker interference detected!
Wikia is a free-to-use site that makes money from advertising. We have a modified experience for viewers using ad blockers

Wikia is not accessible if you've made further modifications. Remove the custom ad blocker rule(s) and the page will load as expected.