Steve Lavigne
(born September 22, 1962) is an American comic book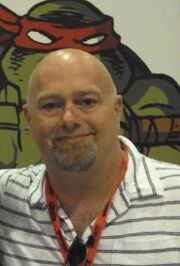 illustrator best known for his lettering and coloring on the
Teenage Mutant Ninja Turtles
title for
Mirage Studios
. He is the creator of
Cudley the Cowlick
,
Sergeant Bananas
, and
Stump and Sling
.
Lavigne inked the backup story in the 1989 collected Tales of the Teenage Mutant Ninja Turtles.
Lavigne, along with fellow Mirage Studios artist Ryan Brown, illustrated the artwork seen on the vast majority of officially licensed Turtles merchandise. The team of Lavigne Brown produced Teenage Mutant Ninja Turtles art for Burger King, PEZ, Konami, New Line Cinema, Colorforms and Playmates Toys among many others.
Lavigne was a participant in the drafting of the Creators' Bill of Rights.
He is also the basis for the character of Michealangelo, one of the Teenage Mutant Ninja Turtles, according to TMNT co-creator Kevin Eastman.
He currently lives in Wells Maine with wife Denise and children Cooper, Gracie and Jackson.
Steve currently works as a freelance illustrator and does occasional work for Mirage Studios. In July 2007, he also released a self-published book Shine Like A Lighthouse, written by Tim Janis, illustrated by Steve.
You can view his work or contact him at http://www.stevelavigneart.com
External links
Ad blocker interference detected!
Wikia is a free-to-use site that makes money from advertising. We have a modified experience for viewers using ad blockers

Wikia is not accessible if you've made further modifications. Remove the custom ad blocker rule(s) and the page will load as expected.