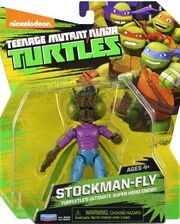 Turflytle's Ultimate Super Hero Enemy
Bio
After promising and failing Shredder time and again to deliver a mutant army to take down the Turtles, Shredder decides he's had enough and mutates Stockman into a pest, Stockman-Fly. Realizing the Turtles have developed retro-mutagen that can mutate him back into a human, he hunts them down. The Turtles better have more than a fly-swatter to take down this mutant pest. Not only does Stockman-Fly possess super mutant strength and the ability to fly, he can also fire highly toxic acid vomit that will make the Turtles want to hibernate back into their shells.

Weapons: High flying & razer claws
Team: Foot Clan
Website Description
During a confrontation with Shredder, Baxter Stockman is exposed to mutagen ooze next to an old pizza box buzzing with flies. The result is Stockman-Fly, a human-insect mutant that has super hearing, spits up acid, and eats garbage.
Articulation
Ball Joint Head
Swivel Hinge Shoulders
Swivel Hinge Hips
Swivel Hinge Wings
Accessories
Gallery
Ad blocker interference detected!
Wikia is a free-to-use site that makes money from advertising. We have a modified experience for viewers using ad blockers

Wikia is not accessible if you've made further modifications. Remove the custom ad blocker rule(s) and the page will load as expected.