Ad blocker interference detected!
Wikia is a free-to-use site that makes money from advertising. We have a modified experience for viewers using ad blockers

Wikia is not accessible if you've made further modifications. Remove the custom ad blocker rule(s) and the page will load as expected.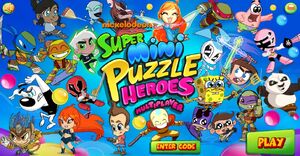 Super Mini Puzzle Heroes is a online browser-based Flash game. The game is a puzzler that features super-deformed versions of many shows airing on Nickelodeon. All four Turtles are playable from the start, with Splinter as an unlockable character.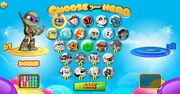 Characters
Timmy
Po
Gir
Bloom
Danny Phantom
Jenny
Korra
Patrick (unlockable)
Hiro (unlockable)
Fanboy & Chum-Chum (unlockable)
Dark Bloom (unlockable)
Jimmy Neutron (unlockable)
Pink Ranger (unlockable)
Private (unlockable)
Dudley (unlockable)
Aang (unlockable)
Splinter (unlockable)
Gallery
External links