Tatsu
Talk

0
2,065pages on
this wiki
"Our father gone! They will pay! I, Tatsu, now lead! Let any who challenge step forward!"
— Tatsu in the second film
Tatsu
Biographical information
Home
Ethnicity
Weapon(s) of choice

Knives

Occupation

Foot second-in-command

Affiliation
Physical description
Species
Gender
Hair color

None

Eye color

Brown

Out of universe information
Era(s)
Voiced by

Michael McConnohie, Mugihito (Japanese)

Teachers and Students

  [Source]
Tatsu
(also known as
Master Tatsu
) is second in command of the
Foot Clan
in
Teenage Mutant Ninja Turtles: The Movie
, and almost assumes leadership in
Teenage Mutant Ninja Turtles II: The Secret of the Ooze
. Tatsu does not like to talk due to his grumpiness and poor English. Several fans believe that he was the inspiration for
Hun
and
Master Khan
. He was portrayed by
Toshishiro Obata
(a real-life Japanese swordsman and martial artist) and voiced by
Michael McConnohie
.
First Movie
Edit
Tatsu is seen as The Shredder's second-in-command and personally oversees the entire youth center for the recruitment of Foot soldiers, while his master is away attending to other matters. He is shown to have a short temper, often physically abusing and punishing the Foot clan for failure. He brutally injures and almost kills a young teenage Foot soldier named Shen So (originally it was intended for Shen So to die, in order to show the sheer brutality that existed within the Foot's ranks, but was cut and replaced with other dialogue: 'You'll be alright,' due to younger audience issues) for trying to calm Tatsu down and defend another Foot member. Tatsu is shown to be unwaveringly brutal in both teaching and combat, as Casey Jones discovers near the climax of the first film. However, Jones comes out the better man, as he wounds and knocks an unsuspecting Tatsu unconscious with a golf club. Following this, Tatsu's fate remains ambiguous until the sequel.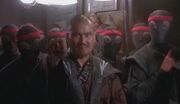 Second Movie
Edit
It is revealed that Tatsu escaped the Foot's original hideout at the end of the first film and meets up with the now vastly smaller Foot clan and proclaims himself their new leader, just as the recently-thought-deceased Shredder returns. Still second-in-command, Tatsu carries out the Shredder's first orders with ease; securing the TGRI canister and dispatching his best Foot ninja to follow April O'Neil. His role is fairly minor compared to the first movie, although he remains unwaveringly loyal to his master and rarely leaves his side. He expresses a certain amount of joy in the idea of 'properly disposing of' the two new mutants created by Professor Jordan Perry's ooze; Tokka and Rahzar. In the film's penultimate battle in a night club where Vanilla Ice is performing, Tatsu is 'shell attacked' by the 4 turtles and stumbles away, unconscious. What happened to him and the rest of the Foot clan following their defeat, is unknown.
Video games
Edit
Tatsu is a boss in The Hyperstone Heist and The Manhattan Missions.
On May 28, 2011, writer Tristan Huw Jones revealed that he intended for Tatsu to appear near the end of his "Gang Wars" story arc in Tales of the TMNT.[1]
In both comic adaptations of the first and second movie, Tatsu looks completely different between the two comics.
References
Edit