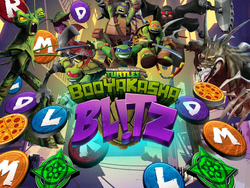 Teenage Mutant Ninja Turtles: Booyakasha Blitz is a Flash-based match game starring the Turtles. Donatello has created a hologram device which creates versions of their foes to battle in order to hone their skills. Matching character logos will damage the foe, and Pizza matching restores health.
Enemies
Errors
Despite quite obviously being a Kraang, that character is labeled as being Krang.
External Links
Ad blocker interference detected!
Wikia is a free-to-use site that makes money from advertising. We have a modified experience for viewers using ad blockers

Wikia is not accessible if you've made further modifications. Remove the custom ad blocker rule(s) and the page will load as expected.