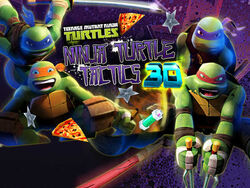 Ninja Turtle Tactics 3D is an online game on Nick.com. Its main goal is to survive waves against the other brothers of the TMNT and projections of them. You can choose Leonardo, Raphael, Michelangelo, and Donatello. You also get blue prints to help you, like a big box of pizza, mutagen to power up to use your super move(s), hazards and traps.
Gallery
Ad blocker interference detected!
Wikia is a free-to-use site that makes money from advertising. We have a modified experience for viewers using ad blockers

Wikia is not accessible if you've made further modifications. Remove the custom ad blocker rule(s) and the page will load as expected.