Teenage Mutant Ninja Turtles: Out Of The Shadows is a downloadable game published by Activision and developed by Red Fly Studio. Out of the Shadows is a four-player online co-op brawler with a "skill-based combat system built around combo-driven action." Out of the Shadows is not based on the 2012 series, but exists in its own "hyper realistic 3D-style" world inspired by the show. It was relased on August 28, 2013.[1] for Xbox Live Arcade and Windows PCs (Steam platform). It was initially scheduled for September 24, 2013 on PlayStation Network, but exactly one week prior, it was heavily delayed, eventually releasing on April 15, 2014.
Description
Announcement trailer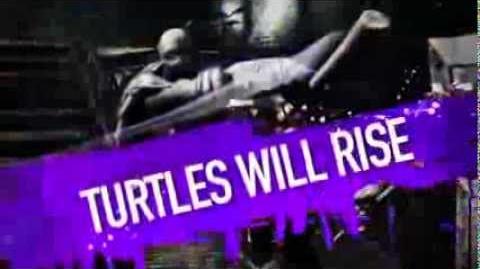 Teenage Mutant Ninja Turtles: Out Of The Shadows takes you back to how it all began. Be the four Turtles, Leonardo, Donatello, Michelangelo, and Raphael in the fight to save New York City from mutants, the Foot and the Shredder. With seamless drop-in, drop-out co-op, along with team combo moves and relentless combat, this is the game fans have been waiting for.
Gameplay
The game is a brawler for Xbox Live and playstation online, a demo was released that showcased some of the distinctive features of the game. Each turtle will have a different combat style based on their personality and weapons in this hack and slasher. Donatello is for technical players and, like in previous games, his advantage is his long reach with the bo, but that comes at the expense of being the slowest of the foursome. Raphael is much more hands on and his fighting style mimics Muay Thai and MMA. The diminutive Michelangelo is the quickest of the turtles and his martial arts style is similar to capoeira. His impressive speed allows him to build up long combos quickly for more devastating attacks later on. And lastly, Leonardo is the all-around fighter who uses plenty of kicks and counters in his arsenal. Each turtle doesn't fight alone, the foursome work off each other and in Out of the Shadows that translates to coordinated team attacks. Players can switch easily between the four ninja turtles using the D-pad and have them do combo finishers and tag moves like a "Turtle Power KO".
Cast
Gallery
Trivia
Videos
Game
Ad blocker interference detected!
Wikia is a free-to-use site that makes money from advertising. We have a modified experience for viewers using ad blockers

Wikia is not accessible if you've made further modifications. Remove the custom ad blocker rule(s) and the page will load as expected.