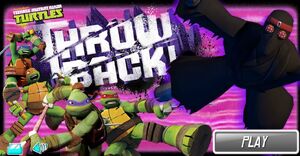 Teenage Mutant Ninja Turtles: Throw Back! is a Flash-based computer game based on the 2012 TV series
The game plays like a simplified version of the Shredder boss level of the Super NES version of Teenage Mutant Ninja Turtles: Turtles in Time, only using the 2012 designs of the characters.  The game's title is a pun, referencing that it's an allusion to an older product (a "throwback"), and the method in which Shredder is to be damaged by throwing the Foot Soldiers back at him.
Gallery
External Links
Ad blocker interference detected!
Wikia is a free-to-use site that makes money from advertising. We have a modified experience for viewers using ad blockers

Wikia is not accessible if you've made further modifications. Remove the custom ad blocker rule(s) and the page will load as expected.