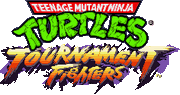 Teenage Mutant Ninja Turtles: Tournament Fighters (or Teenage Mutant Ninja Turtles: Mutant Warriors in Japan, or Teenage Mutant Hero Turtles: Tournament Fighters in Europe), is the title given to three significantly different fighting games based on the Teenage Mutant Ninja Turtles franchise, produced by Konami and released during a period between 1993 and 1994. Konami produced a different fighting game based on the franchise for each platform, featuring a differing cast of characters.
The only characters that were present in all three versions were the four turtles, and gameplay differed between each version. The versions available were on the Nintendo Entertainment System, the Super Nintendo Entertainment System, and the Sega MegaDrive/Genesis consoles. The games combine characters and elements from the Mirage, 1987 and Archie versions.
Versions
Ad blocker interference detected!
Wikia is a free-to-use site that makes money from advertising. We have a modified experience for viewers using ad blockers

Wikia is not accessible if you've made further modifications. Remove the custom ad blocker rule(s) and the page will load as expected.