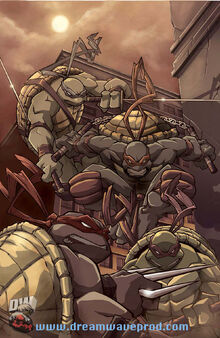 Dreamwave's TMNT comics were based on the 2003-2009 TV series and published between June and December 2003. The first four stories are based on episodes of the 2003-2009 TV series, but instead told from the views of supporting characters before developing new stories, just as the original issues of TMNT Adventures followed the 1987-1996 TV series before developing new stories. The Dreamwave comics were canceled after issue #7.[1]
Main series
Reprints
References
External links
Ad blocker interference detected!
Wikia is a free-to-use site that makes money from advertising. We have a modified experience for viewers using ad blockers

Wikia is not accessible if you've made further modifications. Remove the custom ad blocker rule(s) and the page will load as expected.