YOU'RE NOT ON 
 NICKTOONS 
 ANYMORE! 

Some TMNT stuff really isn't for little kids.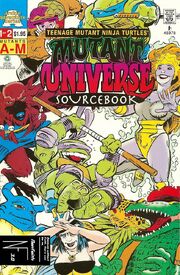 TMNT Mutant Universe Sourcebook 1
(A-M)
#1
Cover: A.C. Farley & Ryan Brown
Writers: Steve Sullivan, Stanley Wiater and Dean Clarrain
Pencils: A.C. Farley
Inking: Brian Thomas & Jon D'Agostino
Colors Barry Grossman
Typesetter: Robyn Harris
Major characters: Ace Duck, Al Falqa, April O'Neil, Armaggon, Azrael, Bebop, Bellybomb, Bloodbath, Bookwurm, Boss Salvage,
Cap'n Mossback, Captain Agamatta, Charlie Llama, Cherubae, Chien Khan, Chameleon, Cryin' Houn', Cudley the Cowlick, Dimension X, Donatello, Dreadmon, Four Horsemen, Foot Soldiers, Fu Sheng, Ghost, Glublubs, Glyph, Grem, Izanagi & Izanami, Jagwar, Jang La, Juntarra, Katmandu, Kid Terra, Knucklehead, Krang, Leatherhead, Leonardo, Maligna, Mang-Thrasha, Man Ray, Merdude, Michelangelo, Mondo Gecko, Monsterex, Mutagen
Synopsis
This issue features profiles (physical stats, history, powers & weapons, appearance list) for the following characters ("A" through "M", only) along with the initials of those who researched their history.
Notes
Being released in late 1992, this issue featured info up through TMNT Adventures #39.
Ad blocker interference detected!
Wikia is a free-to-use site that makes money from advertising. We have a modified experience for viewers using ad blockers

Wikia is not accessible if you've made further modifications. Remove the custom ad blocker rule(s) and the page will load as expected.