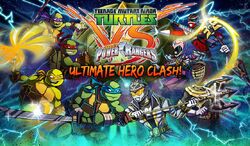 Teenage Mutant Ninja Turtles VS Power Rangers: Ultimate Hero Clash! is a flash-based fighting game available on nick.com. It originally featured the four Ninja Turtles and four Power Rangers to start, but two extra characters were later added to the game.
Roster
Codes
Clash - Unlocks Sewers Stage
External Links

Ad blocker interference detected!
Wikia is a free-to-use site that makes money from advertising. We have a modified experience for viewers using ad blockers

Wikia is not accessible if you've made further modifications. Remove the custom ad blocker rule(s) and the page will load as expected.