Tempus Fugit
Talk

0
2,059pages on
this wiki
"

Tempus Fugit

"
TMNT: Back to the Sewer episode
Season Code:
S07E01
Episode:
144
Original airdate
September 13, 2008
Written by
Eric Basart
Supervising Producer
Lloyd Goldfine
Producers:
Gary Richardson
Frederick U. Fierst
Al Kahn
Norman Grossfeld
Thomas Kenney
Supervising Director 
Roy Burdine
Story Editor:
Matt Drdek
"Tempus Fugit" is the 144th episode of the animated series Teenage Mutant Ninja Turtles (2003), and the first episode of TMNT: Back to the Sewer, which originally aired on September 13, 2008.
Information
Edit
Major Characters
Edit
Secondary Characters
Edit
Main Locations
Edit
Cody Jones' workshop
Time warp tunnel
Dino-era
Knight-era
City Streets [Future]
Turtle Lair [Present]
Voice-over introduction Edit
---
This episode did not have a voice-over introduction.
Plot Synopsis Edit
---
When Don and Cody fix the time window, Viral awakens and seeks revenge on the Turtles. The Turtles and Splinter enter to the machine, but Viral attacks and throws Serling to the window. Viral teleports the Turtles, Splinter, and Serling to different times in the past, present, and future. Don discovers this and turns Serling into Turtle X. The Turtles, Splinter, and Serling get to the present, but Viral appears again. Viral uses Turtle X to hit Splinter with a decompiler and Splinter disappears. The Turtles and Serling return and Don blames himself for losing his master. In the end, Viral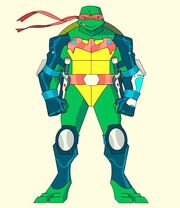 teleports into cyberspace and attempts to withdraw power from a Foot database, but is pulled i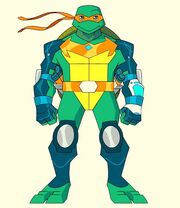 n and becomes
Cyber Shredder
.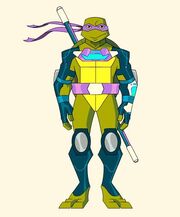 You can help TMNTPedia by adding a quote.
The Turtles had pupils before they went through the time warp.
The Turtles finally return home, but Splinter is deleted by Viral and sent across cyberspace
Apparently if back to the sewers had returned for a second season the three Shredder wars would have been a major part of the story.
Even though it counts as the first episode of BTTS it has the opening theme of Fast Forward.
External links
Edit