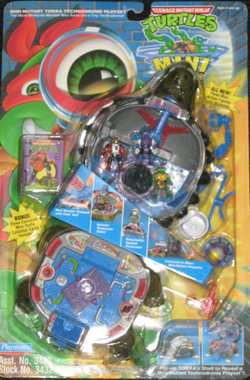 The Tokka Technodrome Playset was released in 1994.[1] It was part of the Mini Mutants assortment and came with tiny figurines of Raphael, Bebop, and Super Shredder. The toy was designed to resemble Tokka in an unmutated form, but opened up to reveal a miniature multi-level playset with multiple trapdoors, ladders, and an eyeball periscope.
References
Ad blocker interference detected!
Wikia is a free-to-use site that makes money from advertising. We have a modified experience for viewers using ad blockers

Wikia is not accessible if you've made further modifications. Remove the custom ad blocker rule(s) and the page will load as expected.