Tora Yoshida was one of the eight acolytes chosen by the Ninja Tribunal. His avatar was a wolf. He was a good friend of Michelangelo.
History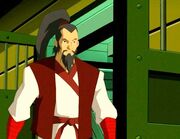 Ninja Tribunal
Tora appears as one of the eight chosen acolytes in the Turtles 2003 animated series' "Lost Episodes". He and his fellow Acolytes, as well as the Ninja Turtles, were deemed worthy enough by the Ninja Tribunal to join the battle against the Tengu Shredder. During a trip to find artifacts that would prevent Shredder's resurrection, Tora appeared to be killed in battle with the Foot Mystics, but reappears later in the season, having been mysteriously not killed.
Back to the Sewer
Tora appears in "Wedding Bells and Bytes" for Casey and April's wedding.
Galley
Ad blocker interference detected!
Wikia is a free-to-use site that makes money from advertising. We have a modified experience for viewers using ad blockers

Wikia is not accessible if you've made further modifications. Remove the custom ad blocker rule(s) and the page will load as expected.