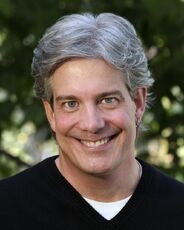 Townsend Coleman (born May 28, 1954) is the American voice actor for Michelangelo in the 1987 animated series. He performed in many animated series and TV commercials beginning in the early 1980s. Among his most notable roles are Wayne Gretzky on ProStars and the titular characters in Where's Waldo? and the The Tick.
Voices
1987 series
Blaster head wrecking crew member
Car thief boss
First hunter drone
First policeman
Hotel owner
Japanese police officer
Krang (Season 3 Alternate)
Museum professor
Night watchman
Security Guard
Short pearl thief
Shredder (Season 7 Alternate)
Second explosive thief
Splinter (Season 5 Alternate)
Burne Thompson (Season 3 Alternate)
Usagi Yojimbo
Vikings
Wealthy cufflink victim
2012 series
External Links
Ad blocker interference detected!
Wikia is a free-to-use site that makes money from advertising. We have a modified experience for viewers using ad blockers

Wikia is not accessible if you've made further modifications. Remove the custom ad blocker rule(s) and the page will load as expected.