TurtleVan
Talk

0
2,063pages on
this wiki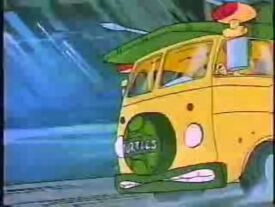 The TurtleVan (also known as Party Wagon) is the Turtles' main transport in the 1987 TV series. It appeared throughout the whole series. In the 2003 TV series, the Turtles also have a TurtleVan, but a totally different one. The TurtleVan also appears in the film Turtles Forever. The Van also appears in a few Video Games. The Van did not appear in the Mirage Comics (though they do use a van in the comics), or the other four movies. Though they did use a van in the first movie and the fourth movie does have the Cowabunga Carl Party Van.
1987 series
Edit
It was just an ordinary van that belonged to Baxter Stockman (who, both along with the van appeared for the first time in "A Thing About Rats"). After defeating him and delivering him to the police, the Turtles take his van to drive to Shredder's mouser factory (and destroy it). In the next episode "Hot Rodding Teenagers from Dimension X", Donatello rebuilds Stockman's van in to The TurtleVan, equipping with all kinds of technology the Turtles found in a abandoned factory, in order to find the Technodrome easily and fast.
After sending the Technodrome (along with Shredder and Krang) into Dimension X, the Turtles keep the van and since then it is their main transport. The Van is driven by all four turtles and (sometimes) April; in the last two seasons the Van is accompanied by Carter's motorcycle. Out of the four Turtles, Leonardo is most of the time driving it.
2003 series
Edit
2007 film
Edit
In the 2007 film Michelangelo uses the Cowabunga Carl Party Van, which has the same color scheme as the TurtleVan, when he goes to kids parties dressed as Cowabunga Carl.
Turtles Forever
Edit
The TurtleVan appears in Turtles Forever and is used as part of the attack on the Technodrome.
2012 SERIES
Edit
The 2012 series has a similar vehicle called the Shellraiser, built from a subway car.
Video games
Edit
The TurtleVan is driveable in the 1987 video game, and appears in cutscenes in the first arcade game. A Turtle Van, based off the Cowabunga Carl Party Van, appears in the game TMNT: Power of 4.
The Turtle Party Wagon was issued in 1988 and again in 2009. The Cowabunga Carl Party Van which is similar to the Turtlevan was released in 2007.