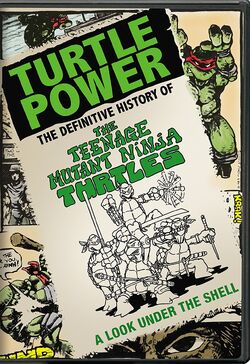 Turtle Power: The Definitive History of the Teenage Mutant Ninja Turtles is an officially licensed 2014 documentary looking at the franchise, as well some background on Kevin Eastman and Peter Laird. The film was in development for over five years.
The main points of the documentary are the rise of Mirage Studios, the Playmates Toys partnership and the 1987 TV series that came from it, and finally the 1990 live-action film, and the involvement of Jim Henson's Creature Shop. There's some talk about Laird continuing the comic without Eastman.
Interviews
Ad blocker interference detected!
Wikia is a free-to-use site that makes money from advertising. We have a modified experience for viewers using ad blockers

Wikia is not accessible if you've made further modifications. Remove the custom ad blocker rule(s) and the page will load as expected.