Turtle Soup (vol. 2) 2
Talk

0
2,074pages on
this wiki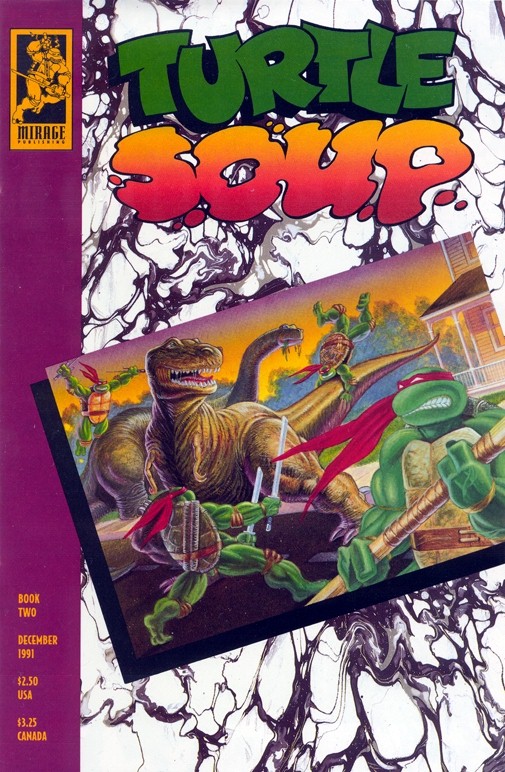 An anthology book with stories by various creators.
vol. 2 #2
Edit
A Green-Grey Sponge-Suit Sushi Turtles Solo Adventure! "Velveeduh in The One That Got Away"
Edit
by Mark Martin.
Synopsis to be added.
"Mid-afternoon of the Living Dead"
Edit
by Dave Garcia and Justin Hampton.
Synopsis to be added.
"Teenage Mutant Ninja Turtles Attack!!! Part 2"
Edit
Part 2 of 4 by Michael Dooney & Steve Lavigne.
As Mikey, Don and Raph struggle with the hungry T-rex, Leonardo enjoys a leisurely ride on the back of a brontosaurus (while a confused struthiomimus dashes off). Donatello groans to himself, as he thought he'd gotten enough of fighting dinosaurs when he and his brothers visited the past.
Meanwhile, Betti is worried that the "nice turtle monsters" are going to get eaten. Henry assures her that he can figure his time gauntlet out and send the dinosaurs back where they came from.
The T-rex proceeds to pound the Turtles flat, but before it can take a bite out of any of them, Henry successfully returns the brontosaurus and the T-rex to prehistory. Raph is not in a very thankful mood and is about to gut Henry with his sai. Startled, Henry begins pressing buttons on his gauntlet to send himself and Betti home. Instead, he unleashes a bunch of mean-looking futuristic robots…
"Alternate Turtles on the Moon"
Edit
by Don Simpson & Steve Lavigne.
Synopsis to be added.
"Raphael: Snapper"
Edit
by Rick McCollum, Tom Anderson & Peter Laird.
Alone in April's apartment, Raph sits on the couch in front of the tube, nursing indigestion after eating six pepperoni pizzas and drinking who knows how much soda. Looking to his left, he spots a glass bowl containing a tiny snapping turtle. Amused, Raph plucks the turtle up by its tail, only to have it bite his finger, drawing blood. The pain and the indigestion prove too much for him, and watching the turtle hissing at him from the floor, Raph passes out.
Suddenly, Raph finds himself in a nightmarish version of April's apartment, approached by a humongous mutant snapping turtle. Raph grabs his sai, but the snapping turtle proves too fast and too powerful, throwing Raph around the room. The snapping turtle tells Raph that by ignoring his reptile heritage and embracing human culture, he has let himself grow weak. Tearing Raph's throat out with his jaws, the snapping turtle says that pizza is no substitute for blood.
Moments later, Raph awakens on the floor of April's apartment, with the little snapping turtle on his head and a very upset April standing in the doorway. Apparently, the entire apartment has been trashed as if there was a huge brawl. April scoops up little "Snapper", who is very sweet and gentle in her hands. April says she found him in an alley and wanted to give him to Raph to set free. But April has more important things on her mind, now.
Throwing Raph out of her apartment, she orders him to go back to the sewer lair and not return without a rare ninja weapon: a broom. Back in his glass bowl, Snapper chuckles at Raph's predicament.