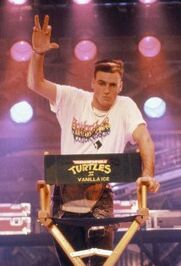 Robert Matthew Van Winkle (born October 31, 1967), better known by his stage name Vanilla Ice, is an American rap artist, actor and television host. Born in South Dallas, and raised in Texas and South Florida. He is best known for his songs "Ice Ice Baby" and "Ninja Rap".
Ice appeared in Teenage Mutant Ninja Turtles II: The Secret of the Ooze, where a battle between the Ninja Turtles and Rahzar & Tokka interrupted a performance he was giving at a club. The Turtles' appearance prompted him to improvise a song titled "Ninja Rap."
In 2014, Ice reappeared in a commercial for Kraft's Teenage Mutant Ninja Turtles macaroni and cheese.
Ice has a tattoo on his leg featuring the classic TMNT logo and the turtles from the Secret of the Ooze poster.
External Links
Ad blocker interference detected!
Wikia is a free-to-use site that makes money from advertising. We have a modified experience for viewers using ad blockers

Wikia is not accessible if you've made further modifications. Remove the custom ad blocker rule(s) and the page will load as expected.