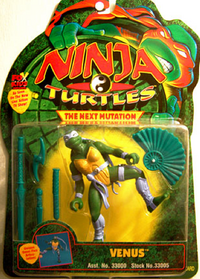 Venus is the name of an action figure in the 1997 releases related to The Next Mutation. Her name is a shortened version of Venus de Milo.
Description
Venus dedicates much of her daily training ritual to building her mental agility and throwing accuracy. She accomplishes this by positioning her her target 20 feet away. Once she achieves 10 bullseyes in a row with her Thrasher Throwing Blades, she moves her target further away. The skill she develops through this exercise helps her to defeat the mightiest of opponents.
Accessories
Full-Swing Fan Shield
Thrasher Throwing Blade and Dagger
Bodacious Broad Sword
Battlin' Blow Gun
Gallery
Ad blocker interference detected!
Wikia is a free-to-use site that makes money from advertising. We have a modified experience for viewers using ad blockers

Wikia is not accessible if you've made further modifications. Remove the custom ad blocker rule(s) and the page will load as expected.