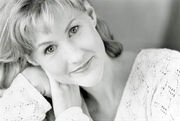 Veronica Taylor (born April 9, 1978) is the American voice actress for April O'Neil in the 2003 animated series, as well as following seasons Fast Forward, Back to the Sewer and the movie Turtles Forever as well as various video games. She also voiced the child Nanobot and Mrs. Morrison. Taylor is best known for her dubbing work in English-language anime adaptations, in particular for voicing Ash Ketchum in the English dub of the Japanese anime, Pokémon.
External Links
Ad blocker interference detected!
Wikia is a free-to-use site that makes money from advertising. We have a modified experience for viewers using ad blockers

Wikia is not accessible if you've made further modifications. Remove the custom ad blocker rule(s) and the page will load as expected.