"Walk Straight" is a song featured in the Coming Out of Their Shells Tour.
Lyrics
Now word up
I got a story to tell
it starts way back
when we were
coming out of our
shell
Back then we were
little
swimming in the
  bowl
But something
happened
when we fell down
that manhole
Don't have to tell
you what you
already know
you should
remember that
we all have to
grow
Everybody does it in
a different way
so do it on your
own that's
what the turtles
say
Walk straight
no need to mutate

Mutate
you never got to
mutate
Got to walk
straight
no need to mutate
Mutate
no need to if you're
walking straight
Got to walk
walk straight
Talk
talk straight
Be
be straight
See
see straight
Hear
hear straight
Think
think straight
Walk
walk straight
In the beginning we
were crawling
round
a nuclear
mutation
is what
got us off the
ground
But you're walking
tall
you're ahead of the
game 
and you know that
moving
backwards is a
crying shame
So when they ask
you
if you're joining in
just keep on
walking
and never begin
You may not be
green
and have a cool shell
but you'll be you
and
you'll do it so well
Video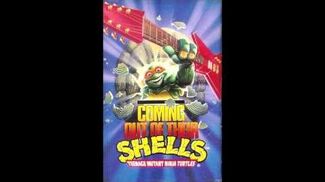 Ad blocker interference detected!
Wikia is a free-to-use site that makes money from advertising. We have a modified experience for viewers using ad blockers

Wikia is not accessible if you've made further modifications. Remove the custom ad blocker rule(s) and the page will load as expected.